Learn Spanish > Spanish lessons and exercises > Spanish test #88012


Atahualpa Yupanqui
Atahualpa Yupanqui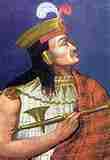 Nació en 1500, y es considerado como el último emperador incaico.

Él estaba inmerso en una guerra civil por la sucesión del emperador Inca Huayna Cápac, muerto por viruela. Atahualpa se declaró inca en la ciudad de Quito cuando Huáscar, su hermano, se coronó en Cuzco.

Francisco Pizarro llegó a Perú por Cajamarca. Para convencer a Atahualpa de cara a tener un encuentro con él, Pizarro le propone ayudarlo en la lucha que lo opone a su hermano Huascar. Desconfiado, Atahualpa acepta sin embargo y arregla una entrevista en la cual indios y españoles deben encontrarse sin armas. Como no descubrió la trampa, el inca acude a bombo y platillo a la ciudad de Cajamarca ya que desea impresionar a los extranjeros. En su litera de oro, llevada por los príncipes más nobles del imperio, el 'Hijo del Sol' es escoltado por no menos de 30 000 personas de su corte.
Un sacerdote español le presenta la Biblia al príncipe pidiéndole si acepta seguir la 'palabra del Dios único'. Atahualpa coge el libro y lo lleva a su oreja. Éste exclama que no oye ninguna palabra y arroja el libro a tierra. Error fatal, ya que para los españoles el sacrilegio será el pretexto que esperaban para capturar al príncipe. Así pues, los españoles dan entonces la señal de ataque y toman prisionero a Atahualpa en 1532.
En prisión aprendió a leer y escribir, e hizo amistad con Francisco Pizarro. El príncipe de Cuzco es también aprisionado. Atahualpa paga un rescate con una cantidad de oro enorme. Los Españoles se dan cuenta de la popularidad del príncipe y quieren a un rey menos influyente. Piden que el preso sea quemado sobre la hoguera. A pesar de su amistad con Yupanqui, Pizarro acepta. Si Atahualpa se convierte, evitará la hoguera. Atahualpa aceptó convertirse al cristianismo y fue bautizado con el nombre de Francisco. Murió ahorcado.
Después de la muerte de Yupanqui, los españoles nombraron a emperadores incas pero se quedaron al servicio del ocupante y a partir de entonces ya no se alternaron cada año como antes de la conquista. Así pues, Yupanqui es el último emperador incaico auténtico.

Twitter Share
Spanish exercise "Atahualpa Yupanqui" created by anonyme with The test builder.
Click here to see the current stats of this Spanish test



Please log in to save your progress.
---
End of the free exercise to learn Spanish: Atahualpa Yupanqui
A free Spanish exercise to learn Spanish.
Other Spanish exercises on the same topic : Geography, history, politics, literature... | All our lessons and exercises