Learn Spanish > Spanish lessons and exercises > Spanish test #7815


El descenso del Sella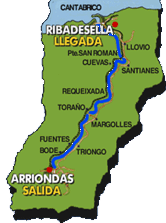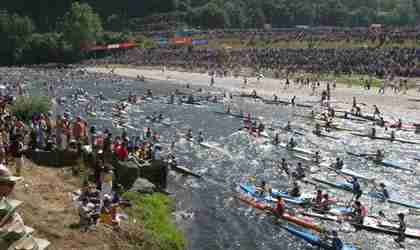 'El 70º Descenso Internacional del Río Sella-Fiesta de las Piraguas, se celebrará en agosto entre Arriondas y Ribadesella, estará dedicado al Real Sitio y Villa de Aranjuez, una población madrileña conocida por su patrimonio monumental y la espectacular belleza de sus jardines. Aranjuez destaca también por su afición al piragüismo.Tiene un recorrido de 20 km.
Es una prueba abierta a la participación de palistas españoles y extranjeros que estén posesión de la licencia de competición del año en curso.
La salida oficial se da a las 12:00 a.m.
Las embarcaciones deben estar situadas una hora antes (11:00 a.m.) en el puesto de salida que les haya correspondido en el Sorteo.
La Salida es de tipo 'Sella', con los participantes y sus embarcaciones fuera del agua.
Las palas de los participantes quedan bloqueadas en una estructura metálica que se cierra quince minutos antes de la salida oficial y se abre en el momento en que cambien los semáforos de salida de rojo a verde.
El tramo del Río Sella comprendido entre los Puente de Arriondas y el Puente de Ribadesella (20 km) para las Categorías Senior, Junior y Veteranos en K2, K1, C2 y C1
El tramo Puente de Arriondas - Puente del ferrocarril de Llovio, (15 km)
Para categorías Cadetes, Centenarios, Mixtas y las embarcaciones del tipo RR
Lugar: Principado de Asturias - España
La línea de llegada está situada bajo el ojo del Puente de Ribadesella señalado con la correspondiente pancarta de META (20 km).
Las categorías Cadetes, Centenarios, Mixtas y las embarcaciones del tipo RR tienen como META el Puente de Ferrocarril de Llovio (15 km).
El tiempo de cierre de control es de 30 minutos para ambas Metas, a partir de la llegada de la primera embarcación por cada categoría y modalidad.

Twitter Share
Spanish exercise "El descenso del Sella" created by claire1 with The test builder. [More lessons & exercises from claire1]
Click here to see the current stats of this Spanish test



Please log in to save your progress.
---
End of the free exercise to learn Spanish: El descenso del Sella
A free Spanish exercise to learn Spanish.
Other Spanish exercises on the same topic : Geography, history, politics, literature... | All our lessons and exercises