Learn Spanish > Spanish lessons and exercises > Spanish test #62442


Pretérito indefinido
/
Antes de hacer el test que cuenta sobre la vida de Malinche
 escuchen esa canción
escrita por Gabino Palomares
y
cantada por Amparo Ochoa
se llama :
La Maldición de Malinche

Del mar los vieron llegar
mis hermanos emplumados
Eran los hombres barbados
de la profecía esperada.
Se oyó la voz del monarca
de que el dios había llegado.
Y les abrimos la puerta
por temor a lo ignorado.

Iban montados en bestias
como demonios del mal
Iban con fuego en las manos
y cubiertos de metal.

Sólo el valor de unos cuantos
les opuso resistencia
Y al mirar correr la sangre
se llenaron de vergüenza.

Porque los dioses ni comen
ni gozan con lo robado
Y cuando nos dimos cuenta
ya todo estaba acabado.

Y en ese error entregamos
la grandeza del pasado
Y en ese error nos quedamos
trescientos años esclavos.

Se nos quedó el maleficio
de brindar al extranjero
Nuestra fe, nuestra cultura,
nuestro pan, nuestro dinero.

Y les seguimos cambiando
oro por cuentas de vidrio
Y damos nuestras riquezas
por sus espejos con brillo.

Hoy, en pleno siglo veinte
nos siguen llegando rubios
Y les abrimos la casa
y los llamamos amigos.

Pero si llega cansado
un indio de andar la sierra
Lo humillamos y lo vemos
como extraño por su tierra.

Tu, hipócrita que te muestras
humilde ante el extranjero
Pero te vuelves soberbio
con tus hermanos del pueblo.

Oh, maldición de Malinche,
enfermedad del presente
¿Cuándo dejarás mi tierra..?
¿cuándo harás libre a mi gente?





El tema de la Malinche es uno de los más polémicos de todos.
Es cierto que sus acciones tuvieron un impacto profundo en la historia de Méjico.

Y ahora.... al trabajo...
Pongan los verbos en el pretérito indefinido...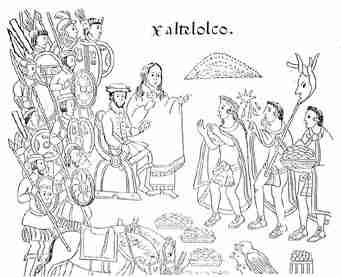 Twitter Share
Spanish exercise "Pretérito indefinido" created by nicks0206 with The test builder
Click here to see the current stats of this Spanish test



Please log in to save your progress.
---
End of the free exercise to learn Spanish: Pretérito indefinido
A free Spanish exercise to learn Spanish.
Other Spanish exercises on the same topic : | Past | All our lessons and exercises